Improved Transitions
Improved Transitions to School Overview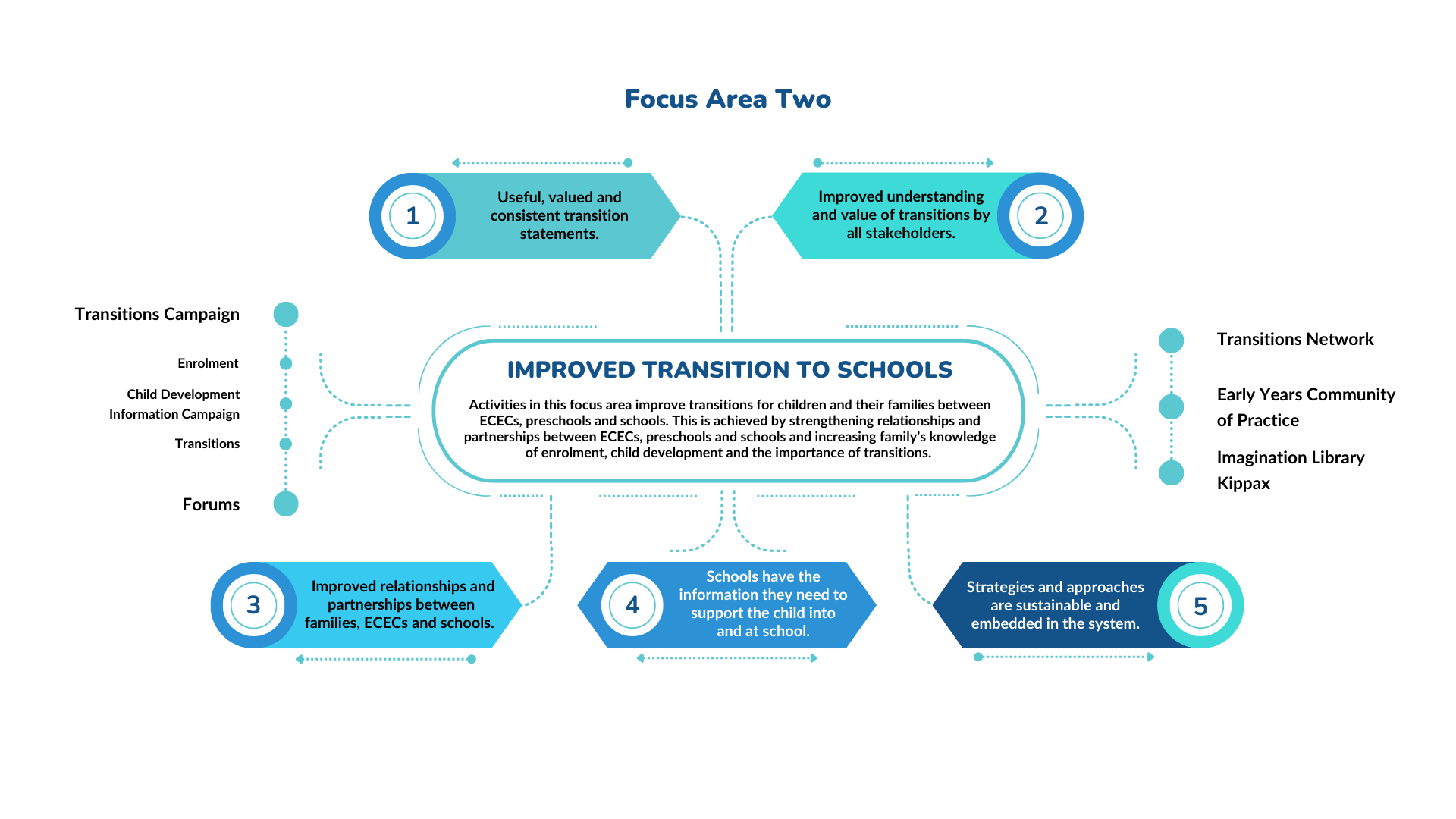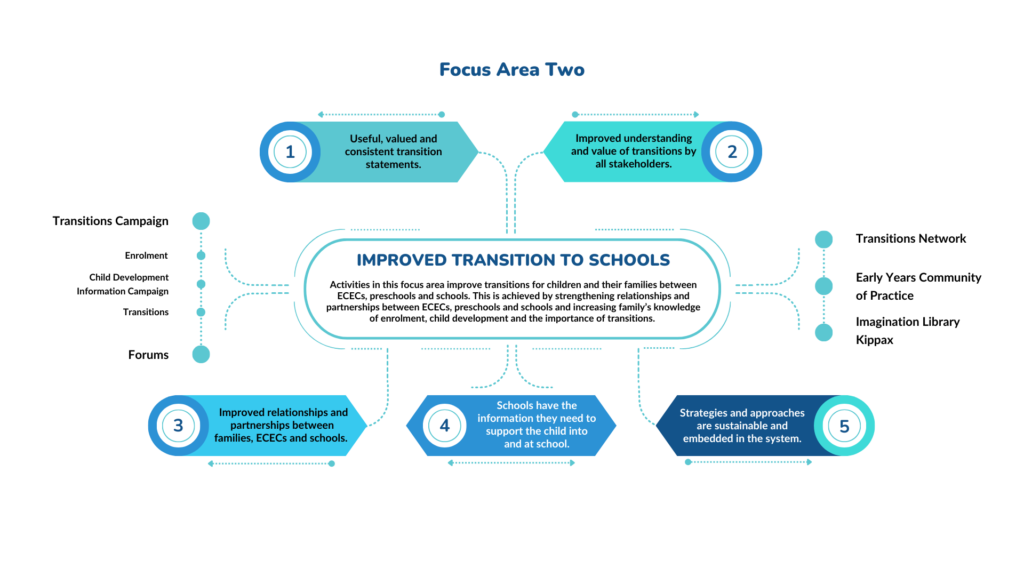 There is mounting evidence that a successful start to school is linked to later positive educational and social outcomes. The Improved Transitions to School aims to help children and families in making smoother transitions from Early Childhood Education and Care settings (ECECs) to formal schooling by creating a consistent approach and improved relationships across the ECECs and schools. It also provides opportunities for families to collaborate with educators and other professionals in ways that strengthen and support each child's ongoing learning and development. Families also have critical roles to play in supporting positive transitions, as do educators, health and other professionals, as well as communities.
The Improved Transitions to School Working Group comprises early childhood stakeholders across government and non-government who have a vested interest in improving transitions and/or are part of the system that plays a role in a child's transition. It has members from the ECECs, schools, and the Education Directorate. Since its inception in July 2021, the group has held regular monthly meetings to understand what is currently occurring in the transitions space in the ACT and to look at where there is opportunity to improve the system (where possible aligning with the Education Directorate's Set up for Success and Future of Education strategies and Action Plans). The focus is on Belconnen schools and ECEC services, but it is understood that they are part of the broader ACT education system and any outcomes would look to be scaled up across the ACT.

Improved Transitions to School Working Group
Scope
The Improved Transitions to School project is to support improved transitions for children and their families between ECECs, Family Day Care and preschools to formal education.
Impact
In the short term this project will engage with families, ECECs, and schools to forge a stronger partnership for information and resource sharing and developing shared approaches to transitions
In the medium term this project will develop transitions roles, supports and shared approaches in ECECs and schools
In the long term this project will support in developing structured and streamlined strategies and systems that enable conditions for children and families to have a positive start to learning and foster smooth transitions
Objectives
Supporting the adoption of a valued and consistent transition statement
Improved understanding and value of transitions by all stakeholders
Improved relationships and partnerships between families, ECECs and schools
Schools have the information they need to support the child into and at school
The strategies and approaches are sustainable and embedded in the system
Improved Transitions to School Strategies
Children who have a positive start to school are likely to regard school as an important place and to have positive expectations of their ability to learn and succeed at school. A successful transition to school is marked by children's positive approach to school and a sense of belonging and engagement.
The two key strategies to achieve the project objectives are;
Identifying what information teachers need about the incoming cohort of children and using this information to assist schools in providing appropriate educational strategies to ensure a smooth integration of those children into the education sector
Demonstrating whether strengthened relationships between ECECs, preschools and schools support better information flow about individual children so that each child's transition between these educational stages is smoother and more effective.

Improved Transitions Network
The Working Group has established a network of school preschool teachers, Executive teachers and educators from the partner ECECs to forge connections between practitioners so that they can best support children effectively in those transitions. Part of this will include discussing aspects of good practice in helping children and families in the transition. The network is about reducing the workload of schools and ECECs by providing a supported network with ready and regular access to each other. It is hoped that by strengthening partnerships between schools and ECECs (and children and families) and creating a flexible, yet consistent approach, positive transitions will be achieved. The network meets once per term.
Network Meeting 1
The first Improved Transitions Network Meeting held on 22 November 2022 was attended by six ECECs and six schools.
"I appreciate getting together with people who are like-minded, where we all want better outcomes" - Network Member
"Collectively we are smarter, we are all very knowledgeable and can leverage the hive mind. There is strength in being vulnerable, let's share and be more open" - Network Chair
"After the meeting I felt better connected and heard" - Network Member
Network Meeting 2
The second Improved Transitions Network Meeting held on 7th March 2023
Enrolment, Child Development and Transitions Campaign
The Improved Transitions to School Working Group launched an Enrolment, Child Development and Transitions Information Campaign in the partner ECECs and pre-schools. This campaign will provide information about the enrolment process, priority enrolment areas, local schools, child development and the importance of transitions. It hopes to build the narrative around child development (with a particular focus on the areas identified in the AEDC data that children are falling behind in), normalising conversations with families and creating an expectation that sharing information about a child to their school is really important for the child to be effectively supported and transition smoothly.
Enrolment Resources
Improved Transitions to School Working Group Members